Why Did We Choose Miami as a Property Investment Location?
News > Blog Article > Why Did We Choose Miami as …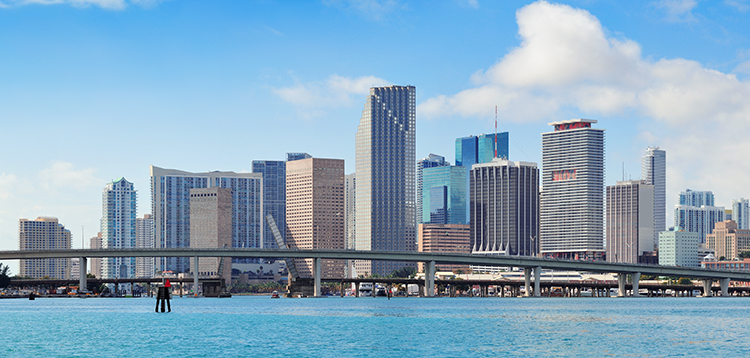 Miami continues to grow as one of the United States' foremost locations for property investment. This is for one clear reason: in a post-crash world, Miami is America's boom town. High-end development on a large scale is business as usual for the beachside city, and Miami is now enjoying a rapidly increasing reputation for luxury. The Financial Times FDI recently listed Miami as one of the top cities for foreign investment in the US.
Miami's unrivalled resurgence and rise as a property hotspot has been attributed to a number of factors. First there's the torrent of investment from Latin America, which after a slight slowdown in the last few years is looking to be back on the rise again, Miami being seen as a safer bet than many other South American locations such as Argentina and Venezuela. Then there's Miami's lower and less stringent taxes, which allow for larger returns on buy-to-let properties and are far easier to deal with than those of New York, one of America's other large property centres
On top of that there are also other, more cultural factors involved. Tourism in Miami, for instance, is seeing some of its highest income levels to date, and a thriving art scene is bringing in deep-pocketed sightseers from all over the globe, supported by a string of new hotels, restaurants and museums opening across town, including a brand new Institute of Contemporary Art coming in 2017. Sotheby's have even taken notice, naming Miami as a fresh new up-and-coming art scene. A number of far-flung airlines now also fly direct to Miami, including Qatar Airways, allowing for a wider variety of visitors to sample the new developments the city has to offer.
And of course, the weather doesn't hurt either – couple fancy hotels, new-build condos, and art institutes with wall-to-wall sunshine and it's not surprising the level of interest in real estate investment in Miami.
But lessons have been learned from the past, and Miami's property boom is being monitored closely by developers, who are now taking a more cautious approach to the growth of the city, implementing failsafe rules to prevent a miniature repeat of the 2008 crisis, therefore helping to make investment in Miami a more secure option.
Add this to the fact that many Latin American's have close connections and associations with Miami and we felt that Miami was the perfect location for Bricksave to launch our first international property.
Written by Bricksave CEO, Tom de Lucy