Why New York is Still One of the World's Best Investment Destinations
News > Blog Article > Why New York is Still One …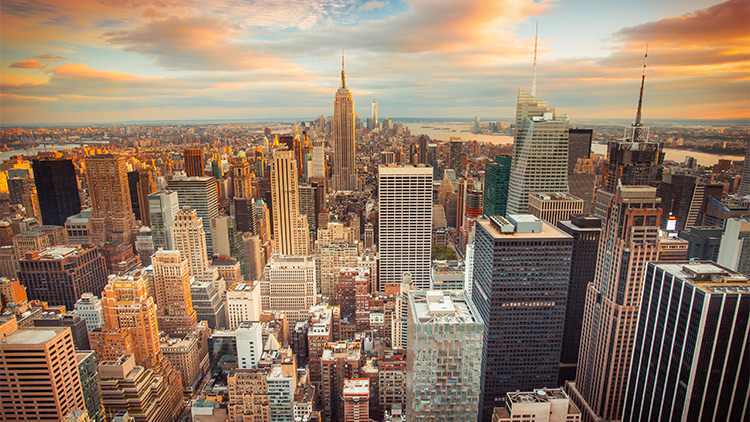 New York City has long reigned as a hotspot for residential real estate investment – and for good reason. The city is about as desirable as they come in terms of living space, and has some of the most high-end properties in the world. It is also a major financial centre and one of the world's top tourist destinations, not to mention the fact that the city limits contain more than ten major universities, multiple professional sports franchises, some of the best museums, hotels and restaurants in the world, and an internationally renowned infrastructure.
New York's rising popularity has resulted in a steady increase in house prices over the last decade – between 2007 and 2016, the median sales price for co-ops and condos rose by 27.9%, from around $860 000 to $1.1 million. For townhouses, the increase over the same period was 58.3%. And it isn't just central Manhattan that is experiencing the upswing: according to Forbes, other districts like the Bronx, Queens and Brooklyn are also seeing their property gaining value, mostly due to overspill from the more central areas. These same districts are also in the middle of a development push – the job markets are steadily growing, resulting in a need for more housing, and Forbes predicts that 70,000 new apartments will be built in Queens over the next three years, and 110,000 in Brooklyn.
Tourism plays a major role in the desirability of a city's real estate market, and New York tourism has no signs of slowing down. In fact, visitor numbers have been steadily increasing over the last few decades, especially in the last five years: 2010 saw 48.8 million tourists visit the city, while in 2015 the number jumped to a staggering 58.5 million (a new record), with tourist spending over the same period increasing from $31.5 billion to $42.2 billion. The surge in visitors will likely lead to a development boost to provide the amenities needed to accommodate the influx, which will in turn give added value to New York's existing properties. An example of this is hotel development: according to Lodging Econometrics, there are currently 17 711 hotel rooms under construction in New York, with a further 9019 rooms set to begin construction in the next year – this makes New York's hotel construction pipeline the busiest in the US, and has been for the last 21 quarters.
New York's profitability as a real estate investment target has long attracted foreign investors – investors from China alone have put around $5 billion into the city's property market over the last four years.
The signs demonstrate that New York real estate will only gain more traction in the coming years, especially with districts like Brooklyn and Queens increasing in value. As international property investment becomes more readily available to more people via innovations such as Real Estate Crowdfunding, New York is likely to experience even more investment coming in from abroad, thus making its property market ever more valuable.