Miami: Latin America's Number One Investment Destination
News > Blog Article > Miami: Latin America's Number One Investment …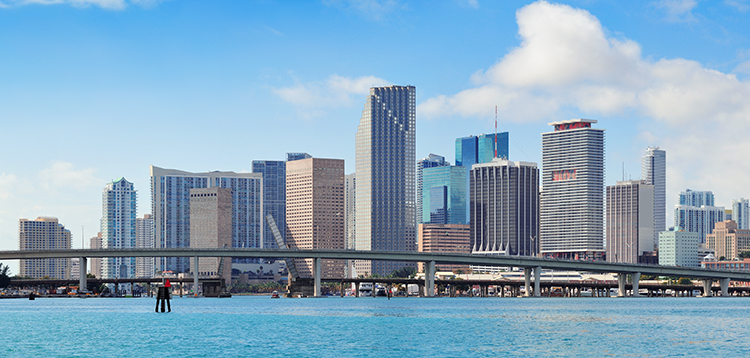 Named by Christie's as one of the world's top 3 cities for luxury real estate (along with London and New York), Miami has long been a prime destination for property investment from overseas. The prosperity of the city's real estate is almost unrivalled by any other American city outside of New York – in 2012, Miami recorded a top sale for a single property at $41 million, while New York, a much larger and well-renowned city, only managed to narrowly beat that single-sale price with $42 million.
With an international acclaim close to that of a global city like New York, it is not surprising that foreign investment in Miami is high. It's interesting to note that the majority of that investment comes from Latin American countries – it seems that Miami's link with its Latin American neighbours to the south runs deeper than just as a popular vacation destination.
According to a report by the National Association of Realtors, Venezuela, Brazil and Argentina are the countries that invest the most in Miami real estate, accounting for a combined 35% of international buyers. At fourth is Colombia, with Mexico sixth (beaten narrowly by Canada) and Ecuador, Dominican Republic, Chile and Peru all featuring prominently. In fact, of the sixteen nations identified in the report, nine of them are Latin American (other nations mentioned include the Spain, the UK, Italy and France), making Miami one of the most popular US cities for Latin Americans.
But there are now brand new opportunities for Latin American investors thanks to the innovation of real estate crowdfunding. With Bricksave, it is now far easier and safer for Latin Americans to invest in Miami without having to navigate that usual cross-border restrictions and headaches that come with international investment; the process can now be completed in its entirety via your online Bricksave account, eliminating the need for proximity, endless research, and relentless admin – Bricksave handles every aspect of the investment process, meaning that Latin American investors can relax and simply choose which Miami property they like and watch their investment grow.
Bricksave have long recognised the potential of Miami real estate – we have two properties in Miami fully funded so far, and one other currently on offer. Our Millecento apartment in the central Brickell district even provided our crowdfunders with higher returns than we predicted in the first six months.
Go to our properties page to find out more about Bricksave's Miami real estate.