4 Reasons Why Barcelona is a Good Place for Real Estate Investment
News > Blog Article > 4 Reasons Why Barcelona is a …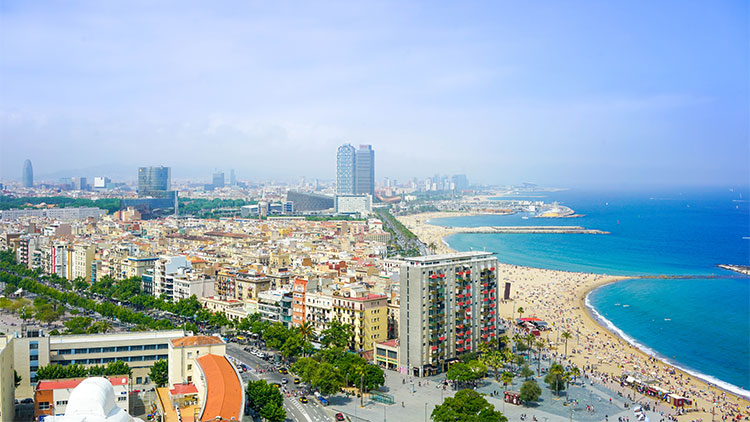 With 8.3 million visitors in 2015, Barcelona is one of Europe's most popular cities. Barcelona's popularity has in fact been steadily increasing since 2010 (which saw 7.13 million visitors), and tourist numbers have more than doubled since 2000.
The real estate market in Barcelona has also experienced an upswing in recent years, with property prices across the city increasing steadily since 2014, thanks in large part to a new wave of foreign investment. The signs of a property market boost in Barcelona were visible even before 2014: in 2013, only 11 Spanish districts experienced house price increases, but 9 of these were located in central Barcelona. All indicators point to the fact that the tourist hotspot has also become a property hotspot, and Barcelona now ranks as one of Europe's most lucrative investment targets for secure returns.
1. Economy
The current state of the Spanish economy is a good indicator of the overall health of the Barcelona property market: loan defaults in Spanish banks are down, which indicates that Spanish people are earning more, meaning that the country's economy is gaining momentum; this is backed by the country's predicted GDP increase of 3.2%, which is one of the fastest increase rates in Europe. Government bonds are also now trading around the 1.5% mark as opposed to 7.2% (2012's number), which demonstrates new confidence in the country's financial state. A strengthening economy will help increase the value of Spanish real estate, as well as encouraging more development and therefore more investment opportunities. The rate of construction in Barcelona in particular is on the rise, with a range of new developments being built in the downtown area.
2. Destination
Due to the city's popularity as a holiday destination, luxury property is an especially profitable part of the Barcelona real estate market: as the 12th most visited city in the world, and among the top 5 most visited cities in Europe, Barcelona will likely always have a healthy interest from high-net-worth foreigners looking to buy or rent high-end properties in the city. Luxury properties retain and increase their value far better than lower-end equivalents due to the necessarily exclusive nature of the properties themselves; exclusive properties in a destination whose desirability is world-renowned are therefore perfect choices for real estate investment, both for stability and potential long-term profits.
3. Politics
Political steps taken in the last few years by the Spanish government will also encourage further foreign investment from high-net-worth individuals, namely the policy to allow non-EU citizens to become full residents if they invest over 500,000 Euros within Spanish borders. This will only increase the value of the luxury property market in large Spanish cities such as Barcelona.
4. Infrastructure
Barcelona's infrastructure should also be taken into consideration when thinking about investment. Transport and communication links in the city are exemplary, with high-functioning airports, high-speed rail networks, and busy trade ports bolstering the city's economy. Technology is also at the forefront of Barcelona's infrastructure: the city has invested millions in new technology, and is in fact one of Europe's major Smart Cities, as well as being named European Capital of Innovation in 2014.
Everything seems to be fitting into place for investment in Barcelona – house prices are increasing, the value of luxury property is going up, there's more development, more tourists, political decisions are going in favour of investment, the economy is gaining traction, and the city's infrastructure appears robust. All signs indicate that now is the perfect time to invest in Spain's most popular city.