4 Reasons to Invest in Detroit Real Estate Market Now
News > Blog Article > 4 Reasons to Invest in Detroit …
Increasing Property prices
Detroit's property revival has been underway for a while now is in a well-established phase that demonstrates that it isn't just a one-off spike. Despite that, it is still significantly behind other US markets and properties are significantly more affordable. Both job availability and cheap rental housing are two main drivers for employees moving to the city and they are simply strengthening this demand and increasing opportunities for appreciation on property values.

Smartasset.com also produced a report comparing increasing home values in the largest cities in the US and Detroit came in at number 1 on their list.

Growing rental market
As mentioned previously increased job opportunities within Detroit and affordable rent are two of the main triggers for increased population and rental demand in Detroit. With companies such as Ford and JP Morgan committing huge amounts to infrastructure and investment projects in the city it seems that rental prices will continue to increase.

This is further supported by the fact that the Detroit metro area has experienced year-on-year increases in employment every month since June 2010.

Infrastructure and city improvements
Detroit's local government have also been playing an important part in the cities recovery, with a focus on improvements across the city and suburbs helping to boost growth and prosperity. The development of green zones and parks has made life more appealing along with a focus on education and improvement of higher education campuses such as Wayne State University and the University of Detroit Mercy. With over 70,000 public school students and more than 60,000 charter school students Detroit is comfortably the largest school district in Michigan and continues to grow.

Future prospects
Not only do the current indicators suggest that Detroit is a great place for real estate right now, it seems that the future outlook is also positive. When Realtor.com released their list of the US hottest property markets, Detroit comes among the top 20 and according to Zillow whilst house prices have continued to grow since 2011 they are still a huge way of their historic norms, leaving more space for growth and the possibility for property appreciation to continue for some time.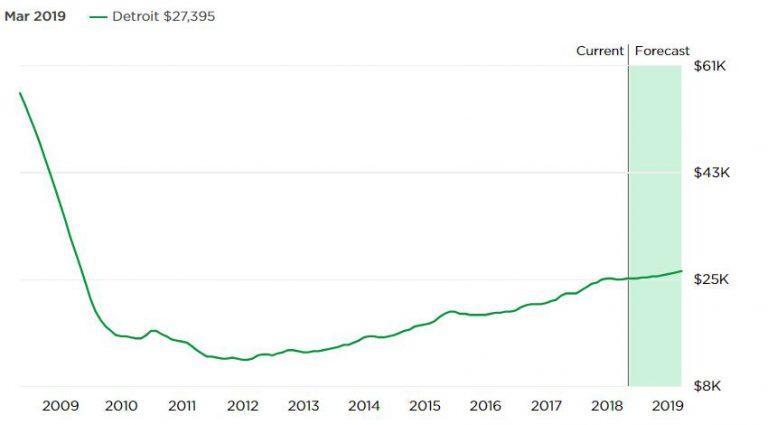 Conclusion
It is clear that the typical view of Detroit's real estate market – row upon row of abandoned and boarded up homes under foreclosure - is no longer relevant or true. Things are changing and Detroit is putting itself back on the map and finding ways to return to its Motor City glory days. So why wait longer? Take the chance to invest today in one of the most US's booming rental cities.